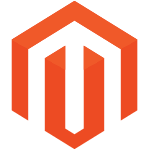 Out of all the eCommerce solutions, Magento has consistently lead the market in terms of cost, scalability, and flexibility. Our team of developers eclipses the region in experience working on the Magento platform. We can tackle fully custom website builds as well as feature enhancements and troubleshooting on existing Magento websites. We specialize in developing Magento solutions for companies doing $1m+ in eCommerce yearly but also offer solutions based on the WooCommerce platform for WordPress for customers with lower eCommerce revenues.
Our Magento Services
Custom Website Design
Magento Development, including custom extensions
Magento Support
Complex product catalog import
eCommerce Channel Management, including aggregation to eBay and Amazon Marketplace
Shipping integrations with UPS, FedEx and USPS
Integration with payment gateways
Magento performance management and tuning
Third-party cross-channel integration
Custom backend order management workflows
Some of the compelling reasons to leverage Magento for your eCommerce website include:
The flexible architecture permits extensive customization.
The ability to manage large product catalogs with thousands of SKUs.
A large supporting marketplace of extensions permits efficient and cost effective development.
Excellent SEO performance encourages organic search traffic to access the product catalog.
Magento is open source and self-hosted meaning that the only ongoing cost to maintaining the website is the monthly cost of hosting.
The administrator interface is user friendly, intuitive, and internet tutorials are easy to find as needed.
The wide range of payment gateways and shipping modules are simple to integrate allowing the website owner to carefully choose the services that fit best.
The Magento template system is built flexibly enabling designers to create any look or feel that fits their client.
Projects leveraging this service: